Advance Odoo Shopify Connector
Manage your Shopify storefront and the sales leads with the help of Odoo Shopify Connector Via API Integration. From handling the orders to maintaining the inventory list, the Odoo-Shopify Integration offers comprehensive features that make it one of the best ERP solutions for eCommerce  businesses.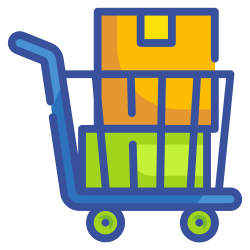 The

Odoo Shopify Connector

and Integrator help you to use the APIs and connect the Shopify storefront with the built-in ERP tool at Odoo. 

With the help of the built-in ERP tool, it will be possible for businesses to work on orders and inventories to ensure everything is managed appropriately.

All the products and orders will be synchronized properly with the help of this connector API. 

Configuring the Odoo connector API with your Shopify storefront is quite easy and can be done within a couple of steps. You will be able to create a test profile by defining different parameters with ease. 
Demo Video of Odoo – Shopify Connector
Highlights of Odoo-Shopify Connector Module

Product Synchronization
The Odoo Shopify integration will help you to synchronize the products, images, and details with the ERP platform on Odoo. Therefore, it will make editing and modification of the product names, descriptions, and images much easier.
Order Management
You can easily manage the orders placed at the Shopify storefront. There won't be any hassle as you will be notified automatically once a new order is placed. In addition, you can process the orders, check what products are ordered, compare the requested number of items with the inventory, and process many other operations concerned with the orders.

Price Management
The Advanced Odoo Shopify connector will also ensure to manage the product prices. For example, if you usually give discounts during the month's beginning, you can modify the prices on the Odoo tool and the same will be exported to the Shopify platform. Therefore, there is no need for you to work on the price list on Shopify that might compel you to take down the storefront for a couple of hours.

Instance Creation
You can create multiple instances on the Odoo connector application. Therefore, it won't be much difficult to run tests on the integrations and different types of orders or real-time scenarios that can be placed by the user.

Tax and Invoice Generation
The Odoo Shopify Integration will help you to manage the invoices and the taxation involved. You can study the orders and schedule an automated invoice generator. Therefore, you won't have to worry about inappropriate taxation calculations and the overall invoice amount.

Inventory and Stock Management
Another most appropriate feature of Advanced Odoo Connector is the inventory and stock management built-in tool. Therefore, you can easily synchronize the order placement and dispatch with your stock results and ensure the stocks are updated each time the order is confirmed and dispatched. Similarly, you can schedule for receiving push notifications about any product having low and critical stocks.

Cancellation Processing and Management
You can easily manage order cancellations without any further problems at Odoo. This is one of the best features of the Odoo Shopify connector API. Once the order is canceled, the stock will be updated and a new invoice will get generated. Therefore, you won't have to worry a lot about managing your business and giving your users an amazing experience.
Features of Odoo Shopify Integration
Real-time Update:
Real-Time Order/Stock update between Shopify and Odoo.
Quick Config:
Easy setup Process and tutorial for configuration.
Promotional and reward:
Manage Promotional and customer rewarding to increase orders.
Refund and Cancellation:


Handle refund generated from Shopify onto Odoo and process it. Also, update information about Refund onto Shopify if the refund credit note is generated directly from Odoo. 
Handle Cancel Orders:


Canceled order on Shopify will be marked cancel in orders in Odoo and vice versa.
Import Information:

Update various details on Odoo like Orders, Customer data, Product data, pricelist, shipping methods, barcode, invoice, discounts, allocated tax, and other details from Shopify.
Warehouse Locations:
Separate location for Shopify to manage orders that are related to Shopify.
Marketing and Procurement:


Use Emails to reach out to your customers/Vendors for marketing and procurement.
SKU management:
Link Shopify products and Odoo products by  configuring SKUs if the nomenclature is not same for both.
Finance:


Get the Finance details and check profitability.
Meta Field:
Mapping fields on Shopify and Odoo, by adding Meta keys for for the platforms on Odoo system.